Oh, goodie!  We're posting Bear pictures!  :D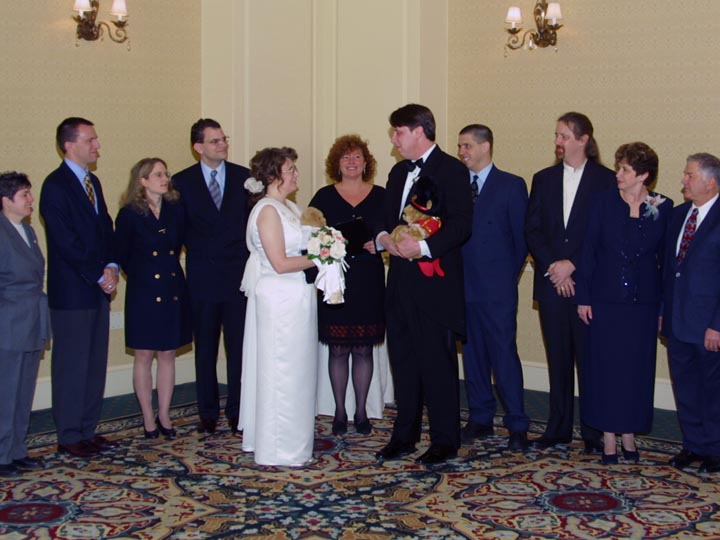 As I said, our Bears were in our wedding.
We don't ask personal questions to our Bears but we're pretty sure they got married too.  ;)
Out of all the different types of plush animals, Teddy Bears are the most human like.  As such, they promote a more human emotional connection than other types of animals that aren't.  Big eyes and round faces promote bonding.  There is something hard-wired into the human psyche that creates this reaction.  Basically, it is the instinct to protect and care for our children.  The shape of a Teddy Bear's face stimulates this instinct.  This is probably why Teddy Bears are so popular and why they become wildly popular in times of unrest.  The "protection" instinct is strongest then.
Tami, your son's Bear is AWESOME!  He doesn't even look like a home made Bear, let alone like the first Bear a kid ever made!
Sure, it helps that he springs from a Bear-making mother.  I'm sure you advised but it is clear.  Kid's got talent!   :thumbsup:
Clarebear, it looks like Kenworth had a good time on holiday with you.  Do Bears travel with you often?
There is at least one Bear with us whenever we travel.  We went to Wal-Mart and made a dog tag from one of those engraving machines they have in the vestibule.  The traveling Bear wears that tag around his neck on a shoelace at all times when he is away from the den.
It's always so difficult to pick which Bear goes traveling with us!