Hi all!
My name is Georgie. I'm from Australia, but will be moving to Canada in early December :). I've been seeking a talented teddy bear artist to make me a fully jointed teddy bear that is a replica of the bear pictured.
The bears name is Blue Bear, or Modrasek (in Czech). He was my fiance's childhood bear, which was handmade by his grandmother when he was a baby. However, a few years ago, Blue Bear was tragically lost and never to be found. My fiance is incredibly sad at the loss of Blue Bear as it is an important memory from his childhood and connection with his Czech grandma.
Blue Bear was made from dyed mohair and stood about a foot tall. He had black glass eyes and nose.
I've contacted so many bear artists and no one is able to replicate Blue Bear (for various reasons). Please, if anyone is able to create this lovely bear so I can surprise my fiance, do let me know. I would love it as a Christmas surprise.
Thanks!
Georgie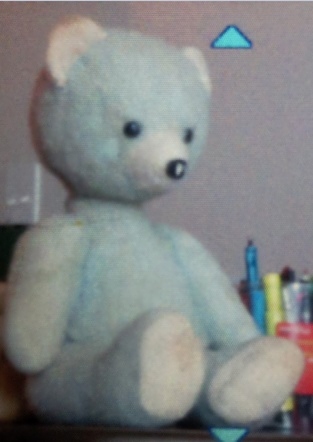 Blue Bear