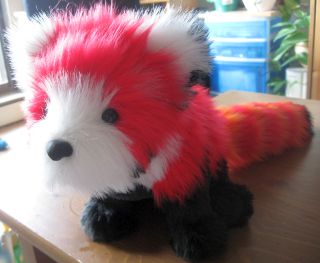 I got a request to make a Red Panda. I bought the fabric and got to work on a pattern.
The Red Panda is the second one I've made. Someone requested the pictured one after they saw the first in my Etsy shop.
The Red Panda is on his way to BC, Canada. :)
The Red Panda is approximately 21" inches from tip of the nose to the tip of the tail.
Non jointed
The toes are needle sculpted as well as the mouth.
The feet are stuffed with plastic pellets and poly fill. The stomach has tiny glass beads for a more real feel. The rest of the body is stuffed with poly fill.
The eyes are 12mm black beads.