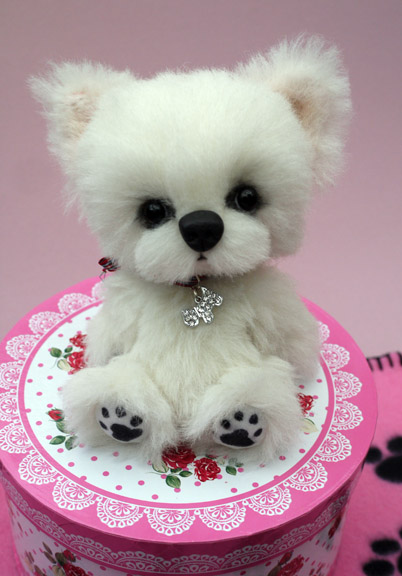 This morning a beautifully wrapped package arrived and inside was a lovely floral round box.  Inside, wrapped in a soft, pink blankie was a beautiful, little darling puppy.  She is my swap bear from Ali (Lovethosebears).  She is made from alpaca, with gorgeous, shaded black eyes and a fimo nose.  She is wearing a lovely diamonte necklace.  Ali also popped a lovely porcelain thimble with polar bear cubs on it into the packaging.  I am so thrilled!
Thank you so much Ali.  I will treasure her.  I have called her Jewel.  I think she's gorgeous!
I've had a bit of a rough start to the year.  My darling Dad, aged 87 is in hospital and not very well, so this has cheered me up no end.
Hugs
Sue