Having never done much more than sew a button on Stitch was a bit like jumping into the deep end of bear making. Made out of material scraps laying around the house he now sits on his own pin cushion and glares at all my efforts.
Well six months later Bertie was completed. Around 5 inches high, fully jointed and made from 6mm sparse mohair. Lots of mistakes but a bit of progress I would like to think.
My bears are just made for my enjoyment but our first grandchild due very shortly is likely to result in making some  child friendly furry friends I don't doubt.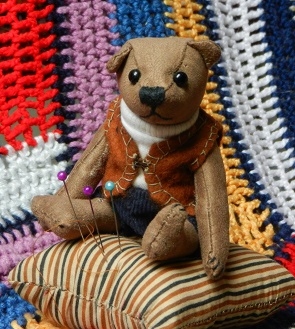 Stitch, my greatest critic


Bertie. Progress?