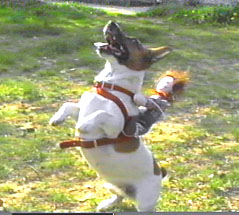 Hi Sarah!
I am glad to meet another Jack Russell lover!  My last dog lived until age 14 and was a terror until the very last.  Loved being underground, and was the best ball catcher I've ever known.  My Cody, now, doesn't understand anything about playing ball!
The photo shows my old Gyp at least 10 years ago, with a rag doll I made tied onto her back.  She was playing ball, completely ignoring the doll!  She would rear up like a horse, and take off after the ball at full speed, with the poor cowboy doll hanging on for dear life!!!

  Just watching his long hair flop as he rode was hysterical.  The photo is taken off a video, and it is so funny to watch, you'd better go to the bathroom first!!
I miss my old Gyp.  My fierce girl.  But my new sweet boy Cody (in the previously posted photo) has certainly filled the hole in my heart!! 
Keep the petstuff coming, you all!
Lynne
PS - I will be starting a new bear this week!  Hooray!