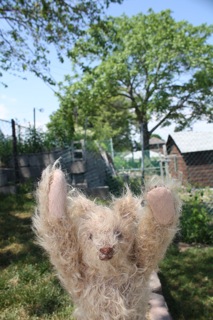 Hello!
I have a question about options for shading bears.
Firstly, board keepers, I  know there is a section in the dropdown menu for airbrushing/shading etc., but it does not give me the option of posting directly to there.  Is it possible?  It would help keep the boards tidy.... so I'm only able to post here - under the Index - Tips & Techniques root menu.
Okay, here's my query:  (well, a couple)
Has anyone used the dilutable H. Dupont or Pebeo liquid fabric dyes with a paintbrush successfully for shading faces, etc.?  Were you able to achieve the shade, control the color well enough, and was it easy to work with/didn't set too fast? Could you blend it easily?
http://www.pburch.net/dyeing/fabricpaints.shtml
Has anyone tried Yasutomo Fabric dye markers?
http://www.yasutomo.com/index.php?page= … &Itemid=69
I've used prisma color pencils and Copic, and am not fully satisfied with the results... particularly how the alcohol in the markers and the blender frizz my mohair!. I know that markers bind the color to the fabric with a sort of glue in the color marker formula, which would account for the "crunchy" feel after using Copic markers,  and that with some oil based color shading methods you should wait 3 days for the color to set before you can move on (brush residue out?).... BUT is there a non airbrush product that one can apply subtle shading to a bear's face that enters the mohair fibers, and does not just sit on top?
I'm an artist/designer with a BFA and know how to work with oil, acrylic, ink, even photosensitive stuff (creating an exposure on porcelain or paper) etc. on traditional surfaces and materials, but don't want to spoil precious mohair or invest in more trial-and-error shading experiments that I may only use once!
Thank you for your help!
Love,
Brenda the newbie  teddy bear making nerd
teddyretirementhome
woo bears!