Well I just took advantage of this great offer.  I have been trying to identify these bears.  I even put them here.  I sent four pictures.  I asked him to help me with the guy on the right.  Needless to say I am so thrilled with this info.  I was right with the age, wrong about origin.  I thought English.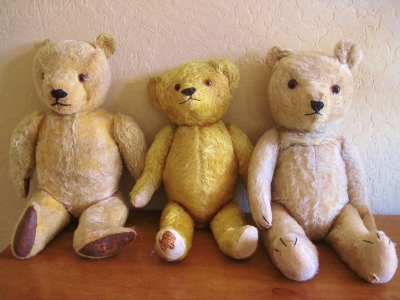 Hello Joanne,
The three bears...
First one appears to be English, the second American, and the third is the one I am evaluating.
The bear is definitely a German bear from the Sonnenberg area, probably 1920-1930. 
The sliced in ears are one of the main production traits from this area.  The reddish tint glass eyes are also from this region and time.
I usually describe this as a Petz teddy, if not from that particular company, from another close by. 
Value in the $300. range.
Looks like the nose has been restitched (new thread) as the originally would have been horizontally stitched..not vertical.
Nice bear.
Ken Yenke