Francesca wrote:
Peter, same problem here. I also have a Facebook page and never really used it until last week after reading this thread. I'm afraid I haven't really understood how it works. I use my personal Facebook page, and know well how it works, but I'm not sure the 'business' facebook page is to be used in the same way. What I mean is: I would like it to be for people that have an interest as collectors or other artists. I don't want to bother all my friends that really have no interest in the bear world. So, I wonder, how should I gain new likes from this world?
I gather from your post that you can post the link to the facebook page here. I will try it now....other suggestions from the experts?
Thanks!!!!!    

The link to my Facebook page, in case any of you feel compassionate enough to like it...:
https://www.facebook.com/pages/KALEidea … 5090356219

...I hope I did it right!  :wacko:
You did right, Francy!
I "liked" your page, but I also "shared" it on my FB page, as you can see below.  Now all my FB friends (who are almost all teddy bear lovers) will see the link to your page; hopefully some of them will visit your page and "like" it too.   :thumbsup: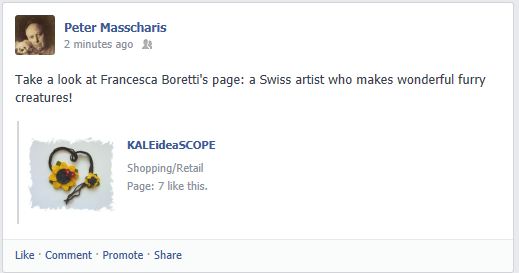 The next thing you can do, is join one of the many teddy bear GROUPS; most of them are dedicated to artist bears (some for selling bears, some for sharing information about bears, etc...).
Here is a list of some the groups that I am a member of: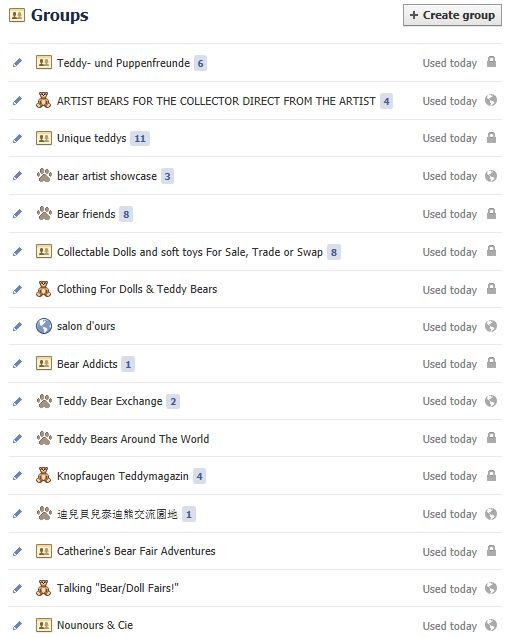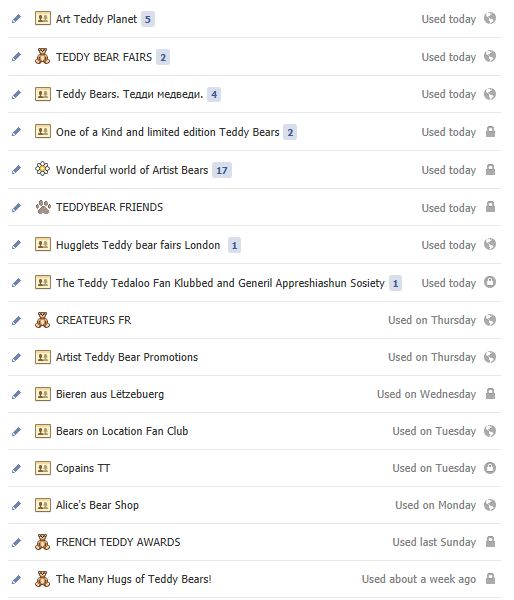 Your "business" FB page can't join a group (only people can), but you can join the group as Francesca Boretti and then inform the members of the group about your KALEideaSCOPE FB page and when you have created a new bear or furry animal you can post it in one or several of these groups.  You can also add a link to Bearpile, to e-bay or to your website.
It might seem a bit complicated, but it's really not that difficult; you just have to try out what works best for you.