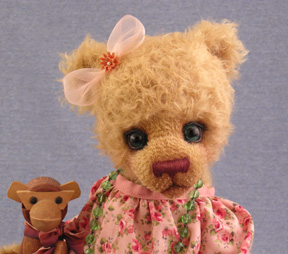 I've done a few noses like this and am certainly no expert (most of my noses are oval shaped.)  But... when I"ve done them, I've embroidered the oval pretty much to a finished stage.  Then, afterward, I added the septum and both side bits... in that order.
The pic above, SANTA CLAWS, is of a bear with this kind of nose, but unfortunately much of it is lost in shading and shadows so you can't make it out too well.  The side bits are narrower (just a few stitches each) than the ones shown in your original photo, above.
The smaller pic of CLAIRE shows a similar nose, done in a different way.  In the case of CLAIRE, I drew the actual shape of the nose onto the mohair backing as it appears, then satin stitched as usual.
Hope that helps a bit.