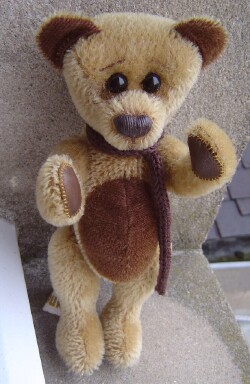 A customer ordered Thomas.
He is 26 cm tall.
I used two different short toothy pile mohairs: a 5 mm one in golden colour (one of my fav mohairs) and a 3 mm one in a brown colour.
his paw pads and foot pads are in leather.
I filled him with wool plus kapok in the head and limbs and with heavy uncarded polyester plus steel beads in the body.
He is fully jointed with cotter pin joints.
He has black German glass eyes. I felted under his eyes with wool which i then painted in light brown with textile paint.
I embroidered his nose with brown twisted cotton and lightly waxed it with bee wax. I used the same thread for his mouth.
I embroidered his eyebrows with brown perle cotton.
I attached to his right leg an hand cross-stitched label (Aida cotton ribon and golden cotton embroidery thread) with  "Sophie Z'Ours" on one side and "Thomas" on the other side.
Finally, I knitted him a wool scarf in a brown colour to match his tummy, nose, inner ears and pads.
I hope you like him. And I hope his mom will love him!
Beary hugs,
Sophie.