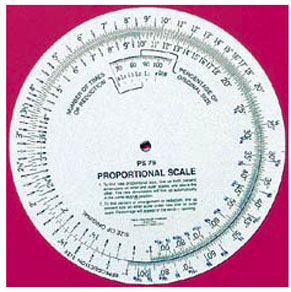 Thank goodness for Toby - I salute Organized People!! She reminded me recently that she'd bought a Proportional Scale from me when I sold these as part of my product line. I have mine.. somewhere...
When this topic started earlier this week, I began to search for mine. Serendipitously, I found my old sketch that I've posted in the Bent Leg topic, and I know that I'll find my scales as soon as I'm looking for the next lost/misplaced item...sheeesh.....I'm too old; there's no hope for me!
The C-Through Ruler Co:
PS80 Proportional Scale by The C-Thru Ruler Company, Bloomfield, CT. Distributed by C-Thru Custom Products, 860-243-0303.
The prices run from $4 to about $10, depending on size and source. One of your best investments!!
Calculates enlargements and reductions of just about anything from photo to quilts. Provides the number of times reduction as well as the percentage of enlargement or reduction. Calibrations for fractions below an inch are printed in a second color.
http://www.artcity.com/ctr-ps79.html
Not having one in front of me, I'm going to describe its use in reducing as well as enlarging from memory of past use, in bear-making, sewing, knitting, etc...
The tool is of heavy plastic; 2 dials grommeted together. I think it scales everything between 1/8" up to 90", both reducing and enlarging. When you have a known size, say your bear measures 10.75" tall and you'd like a 3.25" bear, or the other way around, you line up one of the numbers on one dial and the other number on the other dial (outer or inner depending on if you're enlarging or reducing) and in the little cut-out window in the inner dial, the exact percentage that you set your copier to is shown.
Depending on how much you need to change, you may have to do the copying in 2 steps. Most of us don't have the huge 4' beds of the industrial blueprint services copiers at our disposal!
I've sometimes found these scales at Michael's and Hobby Lobby. They're available online from many sites; finding them locally saves shipping. My smallest one was 5" across and I think the largest is 8". The smaller I packed for teaching and found the larger one was easier to aging eyes to use in the studio!
In case you hadn't noticed this, some copiers don't reduce or enlarge evenly. They may actually render something a bit narrower or wider than a true reduction/enlargement. I always made 2 copies: one set with the pattern template pcs set North to South and the Other from East to West. Laying them on top of each other on a window pane will show any difference and you can draw a new line half way between any differences.
Yes, I agree with the creators of our larger-sized furries. We miniaturists don't allow true seamlines with selvedges because we know we're going to stitch right next to our cutting lines. Reducing.enlarging patterns need removing the selvedge and adding it back on.