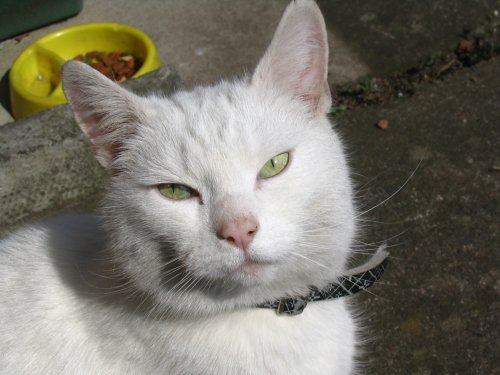 Has anyone ever had knocking cats?? let me tell you the story..
our next door neighbours cat..has cleverly discovered that if he use the front door knocker (which he can reach if he stretches up to it) he has discovered all he has to do is knock with the knocker and we come to the door.. he did it once ages  and ages ago. and then he would do it once in a bluue moon, well this past week he has been knocking on the door all the time !!!!  :D
i dread to think if he starts knocking on the door through the night, you see the trouble is we feed him, so now he knows he knocks..we open the door..he gets fed..or he knocks,.,we open the door and he walks in.. he is such a character  he left us a wonderful present of a bird wih no head yesturday (a starling) ..we often find mice.. well half a mouse.. the back legs and the tail is all thats left sometimes...   :/
we got some fish & chips delivered last week and the guy delivering them said "your cat just kncoked on the door" everyone that comes to the house thinks he is our cat because the minute someone comes to the door, he sits and waits to get in.. very cute..
anyway had to share my story of the knocking cat. here is a pic too !
his name is Polo and we love him like he was one of our own 

(yes he gets in the house.he even sleeps on the chairs. and loves to play with my kitty ! )