Hi dear friends!
Last sunday, we went to a couple of local flea markets and I found a great plush bear there for a ridiculous bargain price of only 2 euros!!!!
I do not usually buy plush toys, but as soon as I spotted the Steiff tags on him, I asked for the price and quickly bought it without telling the lady she could have earned much more from it!
This is Victor from Steiff, the christmas one 30 cm tall, from 2008, which retail price is around £25...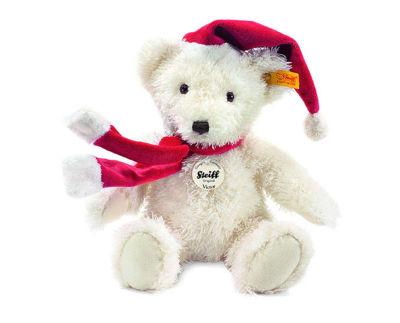 This photo is from internet, not a photo of my own Victor but mine is the same. I will take photos of him later.
I removed his tags (he still had all of them) except the ear tag, of course, and bathed him very carefully. Now he is happy. He was not particularly dirty, but as I did not know what was his previous life, I preferred doing it. I will put his paper tags in a box with my other bears' tags.
He really is a lovely plush bear, very soft and cuddly and looks of great quality. He is my first Steiff bear.
Beary hugs,
Sophie.