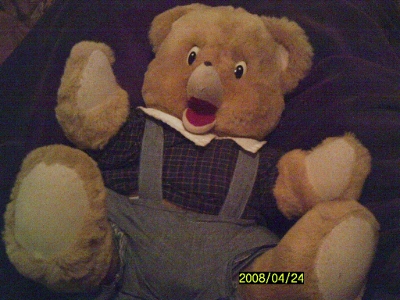 When I was a baby I had a very beloved teddy bear.  When you pressed his paw, he would record about ten seconds of whatever you said and then repeat it back.  I was afraid of him at first, but then I fell in love with him and he was my baby.  In kindergarten I heard the story of Corduroy and thought that was a cool name, so I named my bear Corduroy.  I thought the sun rose and set in that bear.  In first grade he was lost.  I don't know if he got lost in a move or if my houseparent was being a jerk and took him, but all I know is my precious Corduroy was never seen again. 
I looked for almost 20 years for that bear, but I always hit dead air until in January of this year a friend of mine from church saw this guy at an estate sale and got him for me.  He's not exactly the same bear that I had.  My bear's mouth didn't move and this guy's does.  He also has a big ol' hard oval thing in his head that I don't remember from my original Corduroy, but when I held him it was like he had the spirit of my departed bear.  I know that probably sounds weird, but I just felt like I had him back. 
He didn't work at first and I had several people look at him, but they were afraid to take him apart.  Finally I took him to Radio Shack.  At first they panicked, but when I finally found a guy that would do surgery, he found out that all it was was that a wire had come loose and needed to be sottered.  Now he's talking like a pro.  He looks like he's in almost perfect condition, so I don't think he was played with very much, which makes me sad.  Here's his picture, hopefully.